Guitar Life MagazineApril 2000
by Adam St. James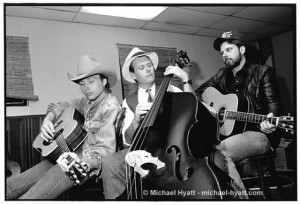 Pete Anderson has played lead and rhythm guitar on and produced almost every record by multi-platinum, Grammy-winning country superstar Dwight Yoakam since the days when Dwight was sleeping on the floor in Pete's back room. Together since the mid-'80s, the two have managed to reap the rewards of both critical acclaim and million-seller success. But Pete is more than just a great producer with wide-open ears – he's worked with artists ranging from Buck Owens to the Meat Puppets – and a honky-tonkin' six-string sideman.
Anderson is a master of roots rock and blues guitar stylings as well. Through his own indie record label, Little Dog – to which he's signed such high-caliber artists as fiddler Scott Joss and roots rockers the Lonesome Strangers – Pete has released two must-have CDs of his own, Working Class and Dogs in Heaven.
His 1994 solo debut, Working Class, a literal guitar clinic captured on disc, is heavily laden with the classic guitar tones Anderson is known for – primarily that good ol' Tele-Twin thang, with just a touch of slapback. Pete's exquisite choice of material on Working Class ranges from an eye-opening reworking of the Jimi Hendrix stomper "Fire" to instrumental masterpieces such as a reverb-drenched "Tomorrow Night" and the acoustic, Appalachian-style "Somewhere A Long Time Ago," to a fairly straight-up reading of Bob Dylan's "She Belongs To Me," to funky, nasty roots rock tracks such as "Stateside Charlie" and "Working Class."
Dogs In Heaven, three years later, provided surprises of its own, such as the Jeff Beck-ish instrumental title track – a true Blow By Blow-style fusion workout – the organ trio meanderings of "Sherry," the almost R&B-like mood of "Ain't That Peculiar," and plenty of gritty, down home blues-rockers.
Pete recently took time to speak with me backstage at the House of Blues in Chicago. He expresses his thoughts on his career both with Yoakam and as a solo artist, and on the workings of Little Dog in this exclusive Guitar Life interview. And don't miss the accompanying video lesson, where Pete shows how he plays his phenomenal faux steel guitar bends, major pentatonic riffs, and killer double stops.
Adam St. James: Tell us about the new Dwight Yoakam album Tomorrow's Sounds Today, and the tour that began even before the album was finished.
Pete Anderson: Last year we did Last Chance for a Thousand Years. We basically toured off a greatest hits record and we had "Crazy Little Thing Called Love," which was a Gap commercial but also on our greatest hits record. Then we started doing a new album, and we started doing it a little late in the spring, and we had booked a tour, and then it dawned on Dwight that we're gonna be touring on a tour called Tomorrow's Sounds Today, with an album called Tomorrow's Sounds Today that's not going to come out until after the tour is almost over. [laughs] Oops!
St. James: What is the theme of the album?
Anderson: We've added a steel player to the band. We've had steel on various cuts where we've needed it but we've never had one on the road. But he toured with us last year as well, Gary Morris, who I worked with in Los Angeles many years ago. I got him involved in the situation. So there's more steel on it. It's really country rock steel. We're doing very much a country rock thing: a lot of steel; kind of rock, kind of California, country rock steel. I don't know how to explain it. It's not like the real crying-in-your-beer thing – which we love as well. But it's more of that Burrito Brothers/the Emmylou [Harris] band/Linda Ronstadt – the whole California country vibe. It's pretty heavy on this record. It's an interesting record.
There's one song that sounds like Hank Sr. wrote it. There's one that Dwight wrote with Buck Owens that just sounds sad. It's called "Sad Side of Town." And then there's this other stuff that's total country rock. And then there's one song called "For Love's Sake," which I really love. It's a style that I've never heard Dwight write before, which excites me about it. I had a lot of freedom in arranging that song. It's got a dub breakdown in the middle of it. It's pretty cool. It's kind of a Bob Marley-melodic-reggae-dub breakdown kind of thing.
St. James: Tell us a little about your label. How do you decide on the talent that's going to end up on Little Dog records?
Anderson: It's just stuff I like. I hear it and I like it. I've worked with the Meat Puppets, Michelle Shocked. With Dwight, I've had a broad range of people that I've worked with. I'm attracted to songwriters, pretty much. It's just stuff I like, really.
St. James: And when can Pete Anderson fans expect another solo album?
Anderson: I had it started and then I got into doing Flaco [Jiminez], finishing Scott [Joss], finishing Dwight's Acoustic.net [dwightyoakamacoustic.net] record, and then the new Dwight record. So as soon as I get home, probably the majority of the winter, I'm going to finish my record, which is Daredevil. And right now, the way it looks, it'll be a completely instrumental record, which I'm really excited about.
My studio is all set up the way I want it. It's very much of a think-tank kind of experimental lab, for me to make records. And we've done enough records in there that we know how everything works and we're comfortable. And then there's a good chance that we'll do an organ trio record with Skip [Edwards], Dwight's keyboard player, who is a great Hammond player – kind of like those Creed Taylor and Johnny "Hammond" Smith, CTI recordings. They made a lot of instrumentals. But maybe [we'll be] playing more popular melodies, but Hammond trio – Jimmy Smith kind of stuff. We're planning to do that. And we've got half of the soundtrack album for Dwight's movie done, "South of Heaven, West of Hell," and whatever else comes down the pike
St. James: Who is writing the music for the movie soundtrack?
Anderson: Dwight, and maybe some other artists. We've only got four tracks cut so far. It'll be an album, and there will be source sounds from the movie. Dwight wrote a song with Mick Jagger. That's pretty cool, so we might get Mick to come to the Dog Bone – Little Dog's studios is called the Dog Bone. Maybe Mick will come there and sing or something. It's cool. It's fun.